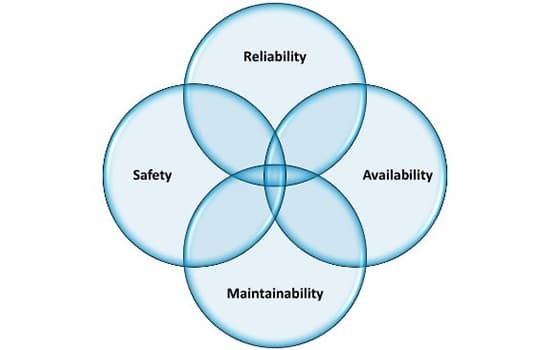 Functional Safety for Automotive, Railways, Aerospace, Defence and Medical
At VerveTronics we will work with your team to identify all progressive Reliability Safety and System Management requirements, and perform the activities to ensure that the system will meet stringent Reliability, Availability, Maintainability and Safety requirements. We at VerveTronics, help organisations to effectively integrate customer requirements in line with the relevant International standards: EN 50126, EN 50128, EN50129 and EN50121. We help out client to achieve technical performance along with the operational performance by effectively managing RAM and Safety activities across the project lifecycle. We carryout RAM & Safety studies using industry accepted standard and tools. Our clients are benefited to save cost and time, reduce risks, increase efficiency, and maximise sustainable outcomes with our highly skilled and motivated project teams.
Failures, recalls, repair time increases severely impact companies bottom line Maintenance and asset management is important to optimise the maintenance duration and cost. Reliasystem Experienced Reliability Engineers work with the customers to maximise the system availability, reduce the operational cost, maintenance cost and duration. Reliasystem follows all the international Safety, RCM and Asset management standards.
RAM Assurance Services
RAM Assurance Plan
RAM Analysis Report
Subsystem Breakdown Structure
Subsystem Breakdown Structure
RBD Analysis
FMEA/FMECA/ FTA Analysis
RCIL Analysis
RAM Demonstration Plan
Asset Maintenance Strategy
Recommended Spare Parts & Special Tool
RAM Demonstration Report
FRACAS Data Analysis
Software /Hardware Verification & Validation
---
Requirements & Interface Management Services
Requirements Management Plan
Requirements Management at Project/Contract level
Interface Management-OEM/Vendor/Contractor
---
Reliability in Maintenance & Service Stage
Product field life Estimation
Reliability Centred Maintenance (RCM)
FRACAS (Failure reporting, analysis, and corrective action system)
Maintenance Analysis
Product Performance Monitoring Index within Warranty Period
Annual Maintenance Contract /Extended Warranty – Prediction for Cost to the Company
Spare Part Analysis
Customer Analytics
Supply Chain Analytics
---
Reliability Goal setting & Project planning at Product and Subsystem level
Supplier/Component selection and Validation
DE rating Analysis and Reliability Prediction
DFMEA/PFMEA
Reliability Test Protocol Design & Execution
HALT, ALT, RGT and Thermal Test
Product & Subsystem Reliability assessments
Field failure & Warranty analysis.
FRACAS
Reliability Certifications
Reliability Standards – Prediction: MIL-HDBK-217Fn2, Telcordia SR 332 Issue 3, IEC 62380 (RDF), FMEA: IEC 60812 etc.
---
Safety & Risk Management Services
Safety and Risk Management Plan
Safety & Risk Analysis
DFMEA

PFMEA
System/Subsystem Hazard Analysis

Risk Estimation
Risk Control : Development and Execution of Single Fault safety and Risk Management verification analysis Protocols and Reports.
Safety Certification
Standards: Safety Analysis: IEC 60601-1, • 80601-1 & sub clauses, PVHO-1-2007, AAMI / ANSI / IEC 60601-2-27:2011., Risk Management: IEC 60601-1, IEC 60601-2, ISO 13485, ISO 14971. etc.
---
Reliability in Concept & Feasibility Stage
Safety Assurance Plan
Preliminary Hazard Analysis (by conducting HAZID/HAZOP analysis)
Set a Hazard Log (Live Hazard register to be updated regularly)
System Reliability Project Planning
Reliability requirements analysis
Benchmarking
Product Feasibility study
Reliability Goal setting
Reliability Engineering Training to Cross Functional Team
---
Reliability in Design & Development Stage
System Reliability Block Diagram (RBD)
Reliability Allocation
Supplier selection & validation
Component Stress vs. Strength and DE rating Analysis
Reliability Prediction
DFMEA and PFMEA
Thermal Analysis
Fault tree analysis (FTA)
Design for X (DFX): assembly, testability, maintainability
---
Reliability Testing
Reliability Test Planning
Test Fixture Design & Development and Test Automation
Highly Accelerated Life Test (HALT)
Reliability Demonstration Test (RDT).
Reliability Growth Test
Accelerated Life Test (ALT)
Single Fault Testing(SFT)
Degradation (wear–to- failure) testing
Environment Stress screening(ESS)
Test Data analysis and Reliability Estimation
Design verification
---
Reliability in Production Stage
Highly Accelerated Stress Screening (HASS)
Product Reliability acceptance test(PRAT)
Development of Preventive Maintenance Plan
Development of Spare Part Strategy Plan
Warranty Cost Prediction
Prediction of Cost to Company for different Warranty Policy
Financial & Risk Analytics
---
Safety Assurance Services
Safety Assurance Plan
Preliminary Hazard Analysis (by conducting HAZID/HAZOP analysis)
Set a Hazard Log (Live Hazard register to be updated regularly)
Subsystem Hazard Analysis
Interface Hazard Analysis
Operations and Support Hazard Analysis
FMECA, FTA, & SCIL Analysis
Hazardous Material List
Preliminary Design Safety Case
Final Design Safety Case
Final Safety Case
Operating Instructions
EMC Assurance Plan
EMC Hazard Analysis, EMC Hazard Log
System EMC Requirements
EMC Demonstration Report
EMC Safety Case
---
Training on RAMS & System Assurance
Systems Assurance for Railway & Metro Systems
CENELEC Std. EN 50126, EN 50128 and EN 50129
Introduction to RAMS Parameters and associated Probability & Statistics
System Reliability Modelling using Reliability Block Diagram
Reliability Prediction using MIL-217 and NPRD
Failure Mode Effects and Criticality Analysis
Fault & Event Tree Analysis
Design for Reliability, Apportionment of RAMS Parameters, Basics of V&V and Software Reliability
Reliability Testing (HALT, ALT, RGT, HASS)
Hazard Analysis & Risk Management
SIL Allocation
Safety Management System and Safety Certifications
Reliability Centre Maintenance(RCM)
---