With over 40+ years experience, VereTronics expertise enables us to offer a complete set of software development services from bootloader and device drivers up through the application and user experience levels.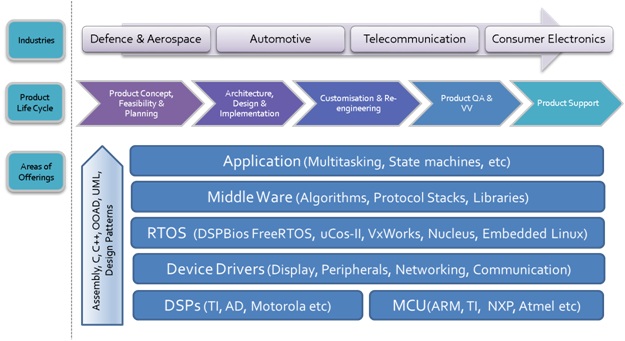 Development of Software layers
a. Application(C,C++,UML, OOAD,Design Patterns, State Machines & Multitasking.)
b. Middle Ware (Protocol Stacks, libraries,CAN, Profibus, Modbus)
c. Device drivers (USB, Ethernet, CAN, Bluetooth, WiFi, GPS, GPSID, UART, SPI, I2C, audio codec, video codec, camera, LCD, SSD, PCIe, SATA, Flash, SDRAM, SD/MMC, SDIO, GPIO, Keypad, A/D, D/A, DRM, PowerVR SGX, OpenVG and OpenGL ES integration, and more)
d. Controller (TI, Analog, Atmel,ARM, ARM Cortex, Power PC)
e. RTOS (QNX, VxWorks, SafeRTOS, RTLinux)
Verificaiton & Validation
VerveTronics believes in subjecting the software developed to regorios testing methodologies to make it field ready. Following Verification and validations techniques are applied
a. Static and dynamic code analysis (PC-Lint,QAC, Polyspace, Code SONAR)
b. Unit testing (Open source testing frameworks, code coverage testing tools)
c. Integration Testing & System testing using HILs systems
d. Software traceabilities from requirement, design, code and test specifications and reports.