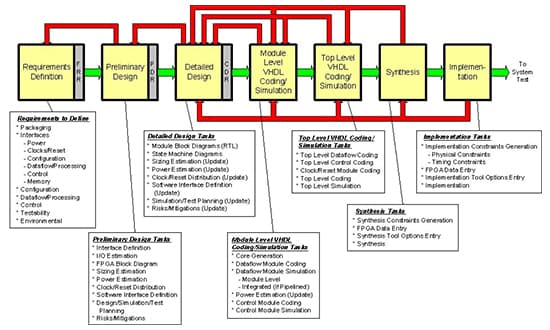 We offer high quality design service for FPGA design, verification, physical design, custom IP development, embedding core as well as wide range of services.
VerveTronics provides Product Design Engineering Services and Strategic Solutions to the Global Semiconductor Industry. An extensive range of service portfolio includes FPGA Engineering Services to OEM's, Semiconductor, Design Houses and Electronic Product Design Companies.
Our alliances, partnerships, tools infrastructure with leading educational institutions, IP, FPGA and OS companies coupled with our expertise in various EDA tools like Cadence, Mentor and Synopsys has a unique value proposition in complete integration of engineering workflows for our clients.
VerveTronics is a renowned and proven FPGA design centre with advanced capabilities in Xilinx, Altera, and Actel devices. We have design expertise on all major platform technologies and advanced tools such as Synplify Pro, ModelSim, MATLAB/Simulink, System Generator, ChipScopePro, DSP Builder, and SOPC Builder. Besides advanced capabilities referenced below, VerveTronics is quite capable of providing cost effective solutions for simple interfaces or logic designs on low cost, low density PLD devices. VerveTronics can take up design from concept through specification to FPGA implementation and further can make it migrate to Structured ASIC.
A brief list of our AISC-FPGA design services include
Conceptualization, Specification Crystallization and Test plan
Designing Implementation Methodology and FPGA selection
VHDL/Verilog coding (RTL)
Simulation and Verification (Environment creation with Test bench and Software Test Suites)
Synthesis and Optimization to target technology
IP block selection and integration
Floor Planning and Place and Route for Performance
Static Timing Analysis
FPGA to Structured ASIC transitions
System on Chip FPGA designs with one or more CPU cores embedded on a single low-cost FPGA.
Development Boards and System Integration
Implementation of emerging standards
H/W & S/W Partitioning
Concept validation
Translation services (Re-targeting)
FPGA-to-FPGA,
ASIC-to-FPGA/CPLD,
Areas of Expertise
High-speed designs involving multi-gigabit SERDES
High-speed DDR, QDR, chip-to-chip I/O
SPI, VoIP, Packet Processing
RapidIO, RocketIO
PCI-Express (PCIe) up to x16 lanes
DSP algorithm develoment, digital signal processing in FPGAs
Embedded MCUs such as PPC, uBlaze, Nios II
High-speed video/image processing, Storage, Networking (medical, defence, broadcast head-end)
SATA-I/II, SAS, iSCSI