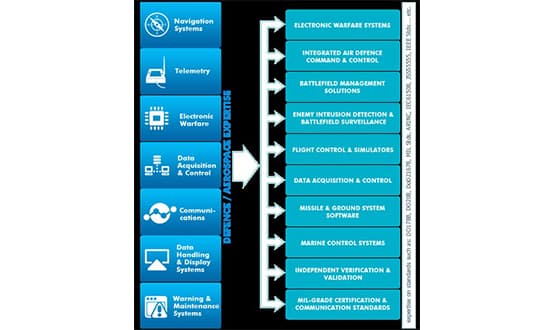 VerveTronics team of experts work on critical & non critical avionics for Defence & military platforms. We have successfully delivered hardware, FPGA, Firmware, Electrical, Mechanical (In Collaboration) and software solutions for, Missiles, Guided Bombs, Trucks, military aircraft and unmanned aerial vehicles.
VerveTronics is focusing primarily on missile, firing and flight control systems, UAV's consisting analog, digital, computational intensive, programmable logics, telemetry, data loggers, data acquisition based control and networking products for Aerospace and Defence industry.
VerveTronics associates with leading Defence, Aerospace and Avionics companies, Government Labs to deliver and sustain complex avionics solutions and help them stay competitive in the global market place.
As a leading exclusive provider of engineering services, VerveTronics has built the Aerospace and Defence practice by offering a wide array of solutions customised to the industry.
Domains
Missiles, military aircraft and Unmanned Aerial Vehicles (UAV).
Flight Navigation, Flight Control Systems, Fire Control systems and Surveillance Systems
Power Management Unit
Maintenance Systems
Telemetry, Communication Systems & Data loggers
Standards
Avionics standard buses such as MIL- 1553B, AFDX, and ARINC-429.
Applying standards like MIL-882D, MIL-1629, ARP-4761, ARP-4754, MIL, Mil-HDBK-217F, MIL-810E, DO-160, Mil-461, ARINC etc.
Development and verification compliant with DO-178B/C, DO-160 & DO-254 standard
Verification and Validation as per Safety standards for CEMILAC certification of Airborne applications
Safety
Safety Architecture and System Design
Failure Analysis of FMEA, FMEDA
Safety Requirement for System, Hardware and Software
Safety Hardware Design, development and validation
Safety Software Design, development and validation
Development, Verification and Validation as per IEC61508, DO178, DO254, ED-12B, CEMILAC Safety standards
Standards
Avionics standard buses such as MIL- 1553B, AFDX, and ARINC-429
Applying standards like MIL-882D, MIL-1629, ARP-4761, ARP-4754, MIL, Mil-HDBK-217F, MIL-810E, DO-160, Mil-461, ARINC etc.
Development and verification compliant with DO-178B/C, DO-160 & DO-254 standard
Verification and Validation as per Safety standards for CEMILAC certification of Airborne applications