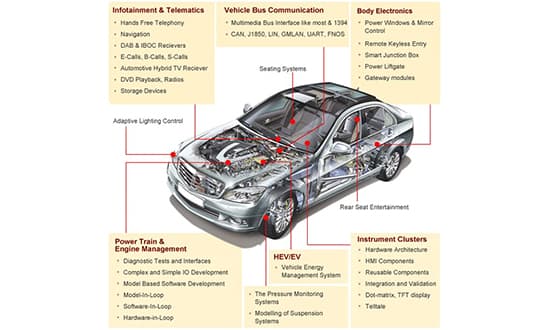 VerveTronics Imagineering team has vast expertise on safety critical applications in automotive electronics offering Functional Safety,Reliability, Product design, architecture, product realization and testing & validation services. VerveTronics offers a vast range of product development services for automotive electronics to some of the leading automotive brands worldwide.
VerveTronics Technologies team has worked extensively on designs for automotive electronics and have executed projects in segments like:
Advance Driver Assistance systems (ADAS)
Battery Management System
Body Control Electronics
Restraints & safety Modules
Infotainment, Telematics & Navigation
Comfort and HVAC.
Instrument Clusters
In vehicle diagnostics (OBD)
Steering Wheel Sensors and Actuators.
Autonomous Driving / Mobility
Vision Sensors
Lane Keeping, Lane Detection
Driver Monitoring
Obstacle Sensor
Close Loop Simulations
Sensor Fusion
Precision GPS
Braking Systems
Electric Vehicles
VerveTronics Team has designed embedded hardware and software design with functional safety for
Battery Management Systems
Intelligent Fuse and charging systems
Intelligent High-Power chargers, Super capacitors
Precision Navigation
VerveTronics Team has developed AVARE IOT platform for precision agriculture with embedded hardware , Software and Cloud platform algorithms for
Route Planning
Route Following, reroute and tracking
Obstacle filtering and detection
Precision Centimetre level accuracy GPS
Connected Vehicles
VerveTronics team acknowledges security in key challenge in connected vehicles and has experience in
Secure Encrypted Wireless Communication.
Diagnostics
Remote and Secure Over the air upgrade OTA
Remote diagnostics
Remote Vehicle Monitoring
Functional Safety
VerveTronics has TUV certified functional safety engineers with proven experience in safety Applications up-to ASIL D for
Functional Safety Life Cycle Management
Hazard and Risk Analysis, Safety Goals
Functional Safety and Technical Safety Requirement Specifications
Safe Hardware Development
Safe Software Development
Safe Mechanical Development
Safe Process and Quality Improvement
Safety Assessments
Verification and Validation